Festival Fashion 2022
While the promise of a "festival season" is uncertain for now, we can still ready our festival fashion 2022! BulkApparel wholesaler has the inspo here!
What's that? You randomly feel a longing to be outside in a hot field for an entire weekend surrounded by other sweaty individuals? If you're a raver or festival goer like me, you know EXACTLY what I'm talking about! The FOMO is hitting especially hard this time around while everyone else was just at Coachella. It's safe to say that festival season and festival fashion 2022 is well under way! Music festivals are now a staple in popular culture becoming a weekend where you can see many of your favorite artists all in one space. All while embracing new cultures, experiencing art, and creating irreplaceable memories. Around this time of year you might find yourself shopping to try to find the perfect not so basic apparel for your upcoming festival schedule. Fashion is so incorporated in festivals it is almost as important as the music. Everyone from the performers to the crowd make their outfits a focal point of the weekend. From EDC to Coachella to AfroPunk, every festival has its own unique vibe so to say. It's beautiful to see the different ways everyone chooses to express themselves through music and fashion trends.
What will festival fashion 2022 look like? Will it be more crop tops and basic shorts? Or can we expect a sportier fashion vibe with cutoff bulk hoodies or 100% polyester performance tees? Before we get into all that let's dive into a bit of brief festival history.
Brief Festival History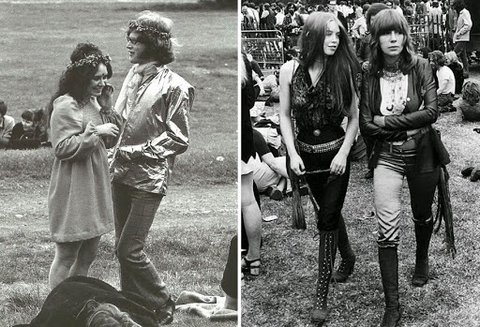 There is nothing more important than knowing your roots and where you came from. Fashion's impact on music culture, but more specifically festivals, has been prominent for decades now. In 1969, the world was given Woodstock, a music festival that took place from August 15-18 and showed the world an entire different culture. The youth now had a place for expression, culture, and euphoria. Woodstock gave a voice to an entire generation who may have felt silenced and this eventually changed American culture. To this day, Woodstock is viewed as one of the most pivotal moments in music history. Aesthetically speaking, fashion was still at the forefront of the festival, and the "Hippie" fashion movement was propelled into mainstream culture after the festival, which eventually helped build an entire movement going into the next decade.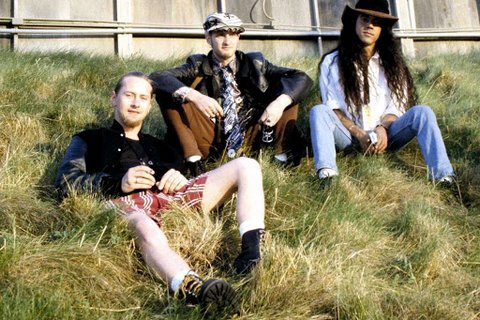 As time progressed and so did cultures, there were more music festivals and each festival was catering to a different group, each giving every subculture their own voice and means of expression, through music and fashion. As the 90s ushered in an entire new generation, mainstream culture got a glimpse into the youthful mind. This then was the first generation that resembled those from the 60s. A subculture that was going against the grain and paving their own way all while searching for a way to show their voice. Both generations still have their presence in modern culture, specifically in fashion. You can't tell me you aren't going to try to recreate any of these outfits the second your favorite festival announces it's new dates. Festival fashion 2021 is something to look forward to!
Coachella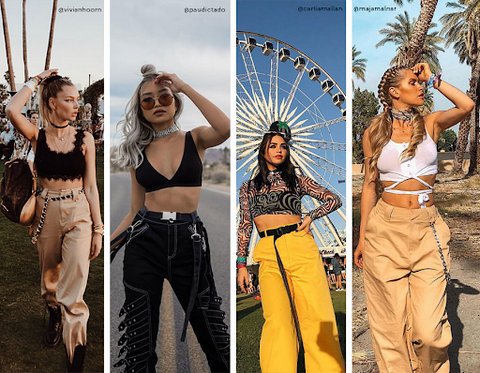 One of the most prolific music festivals in modern culture is Coachella. If you have a favorite artist, chances are they have performed at least one year at Coachella. Founded in 1999 by Paul Tollett and Rick Van Sante, Coachella has always shined a light on fashion, music, arts and everything in between. Coachella is not merely a music festival, over the years the fashion of those not only performing but also those in attendance, and this is not limited to the myriad of celebrities that are in attendance over the years. Over the years we have seen fashion evolve in everyday life and in festival culture. Coachella attendees are notorious for their style and over the years there has been a rather large shift in the outfits and accessories they choose to showcase.
As previously stated, generations like the 60s and 90s play a very important role in our culture and when thinking of clothing for Coachella, it is a perfect blend of both of those cultures. From the baggy pants and plaid skirts to the fringe dresses and DIY tie-dye, it is not hard to see the impact that previous generations have on our culture. There are plenty of ways to draw inspiration from previous generations and create your own personal style. Here are some ways you can bridge the gap this festival season and unveil the hottest festival fashion 2022!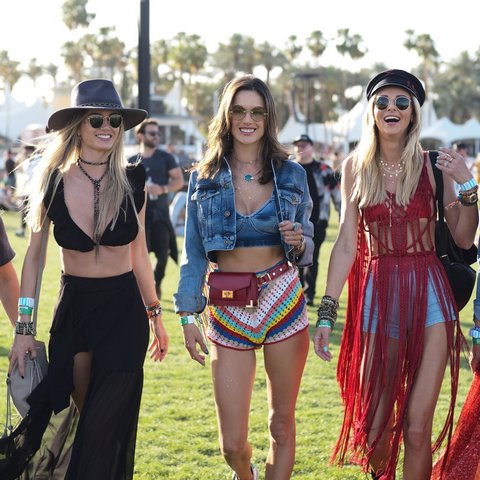 Drawing influence from the 60s and western culture, the fringe dress and accessories will definitely be a staple for concert goers this festival fashion 2022 season.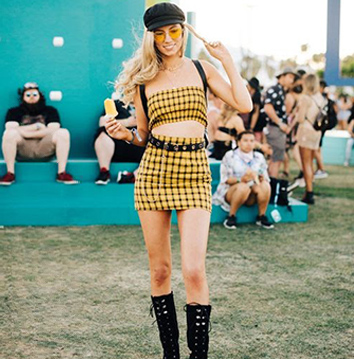 This look screams Clueless, which makes it even better since everyone in the film is a fashion icon in their own right. A perfect outfit to show appreciation to the 90s.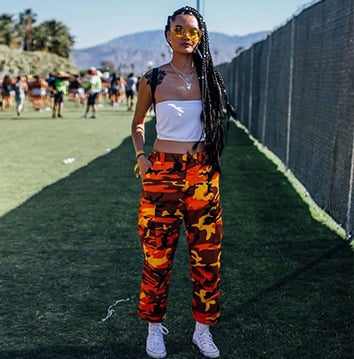 Popular for everyone right now, but especially for festival goers, are cargo pants. The baggier the better, creating a skater/grunge look. Paired with a basic crop top this is the perfect outfit for the long festival days.
EDM MUSIC FESTIVALS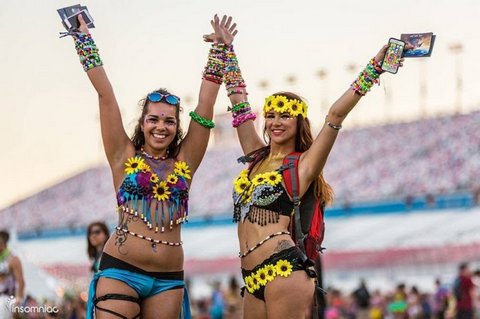 Rave culture has slowly been inching its way into the mainstream since the 90s, with an attitude that doesn't follow any rules that anyone may want to instill. The fashion that coincides with rave culture is exactly that, there are no rules and certainly no limits to what can and can't be worn. A culture that has always taken pride in the freedom of individuality and expression, these ideologies carried on way into the next few decades and are now a mantra for festival goers alike. Vibrant in sound and visuals alike. Electric Daisy Carnival, or EDC is one of the most prominent electronic music festivals in modern culture. It was first held in 1991 and was later given its name in 1995 to Insomniac Events. The festival is now the largest electronic dance festival in North America, and brings people together from all over the globe. The best part about festivals such as EDC and Ultra is that there are simply no rules when it comes to fashion, you can wear whatever you choose. That doesn't deflect from the fact that those in attendance do still draw influence from the 90s rave culture, with neon colors, spandex and beaded accessories.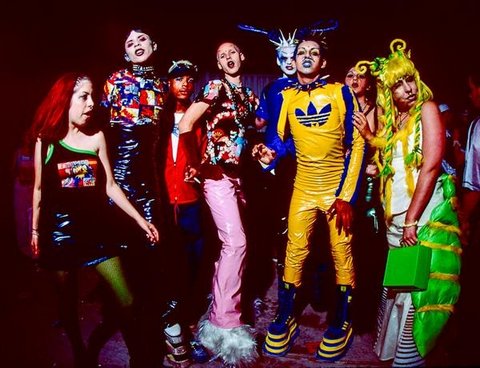 There is the age old motto "if it ain't broke, don't fix it" albeit very cliche, it can be very fitting, here is a prime example. Today's rave culture draws influence from an array of aspects and fashion communities. However, they do pay a slight homage to their predecessor, that of the late 80s and early 90s rave culture underground phenomenon. Taking aspects from the previous generations, while also creating their own unique and more modern twist to create a new lane, they remain equally as thought provoking.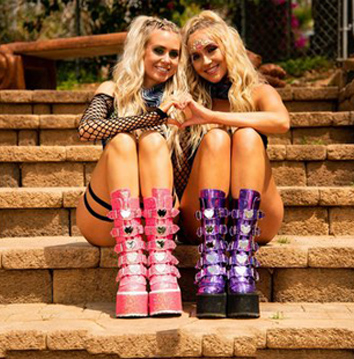 Add the final touches to your perfect outfit for the best festival fashion 2022 experience. Tip: the more color on your boots, the better!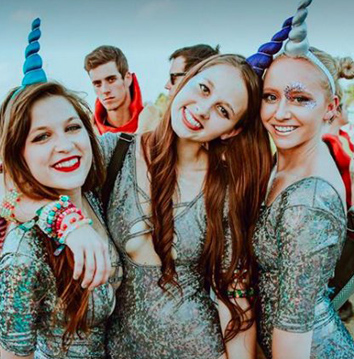 The perfect outfit for an outdoor festival, keeping you cool as well as allowing you to truly personalize your outfits. Extra points for holographic bodysuits.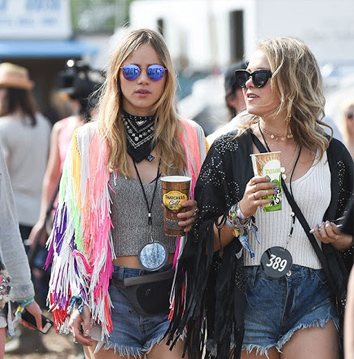 Nothing is more appropriate for any festival than cut off jean shorts. Ideal for the temperature, cute with any outfit and always in fashion. You simply can't go wrong.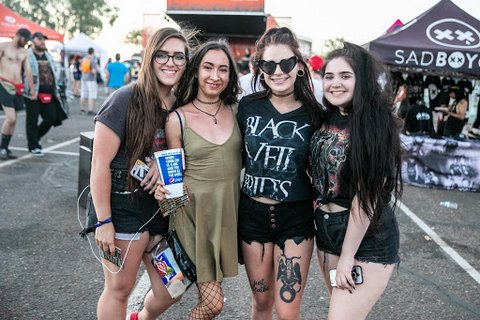 The Vans Warped Tour was my first live musical experience, so pardon me while I pretend to not get misty eyed… The festival was created by Kevin Lyman in 1997, and was the first ever cross country traveling festival. The festival included artists from every genre, but was mainly alternative, punk and metal artists. For over 20 years the Vans Warped Tour was the soundtrack for the counterculture every summer. Although the festival is no longer active, it still lives on in spirit in the faint shadows of the local Hot Topic, and in festivals very similar such as the Sad Summer Fest. There is nothing wrong with a little nostalgia and we know that all fashion trends come full circle so next time you'll be ahead of the curve. So grab your eyeliner and favorite drug store bought hair dye for a little nostalgia trip.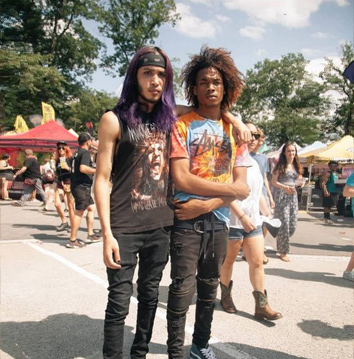 I want to preface this by asking, is there a more "Warped Tour" photo that has ever existed? Although notoriously hot all summer long, the black skinny jeans are a must no matter what the meteorologists say.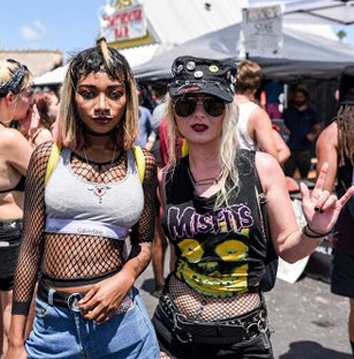 There is nothing more crucial than showing off your favorite bands by wearing their bulk t-shirts. It is a requirement for the entire festival. Plus you can wear these after the fact to bring back some summer memories.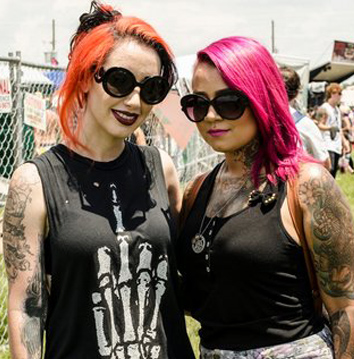 Experimenting with fun and bold colors is one of the blissful beauties of hair dye. Any color will bring your ensemble together and if there is more than one, even better.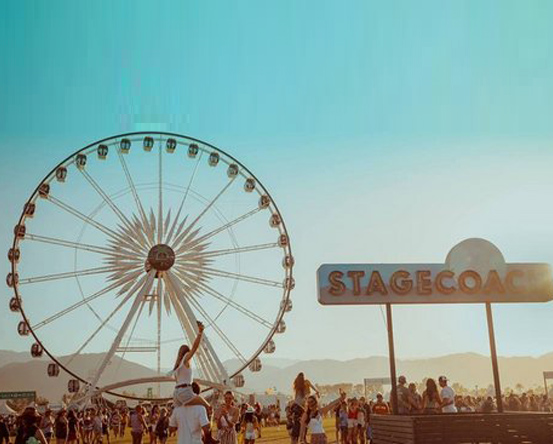 Stagecoach is an outdoor country music festival that is held every year in Indio, California. Is it the Country Coachella… I can not confirm or deny this, however, the two do have a lot in common and that is not only their location. The festival started in 2007 and has artists from all across the board, from bluegrass, folk and mainstream country. Notable acts that have performed at the festival are Toby Keith, Taylor Swift and Alan Jackson. Stagecoach like many other music festivals has been cancelled the last two years due to the pandemic. But here is to hoping next year we can hop back on the saddle (terrible pun 110% intended.)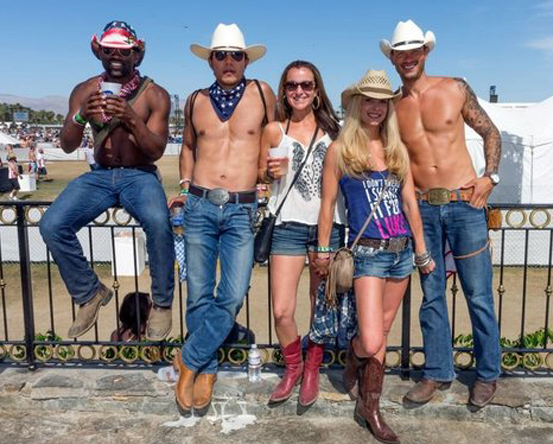 I mean come on… is there any better footwear that you can think of for a weekend like this? If attending stagecoach bring your favorite pairs, and definitely plural for any occasion you may encounter.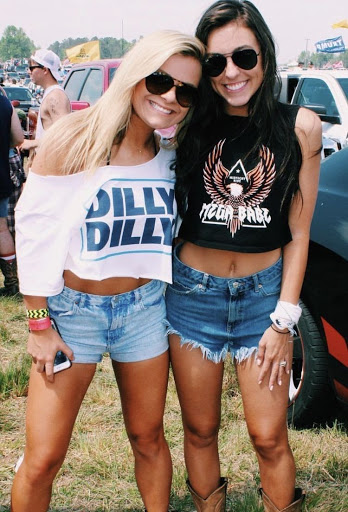 I don't think there is an actual difference between Daisy Dukes and regular jean shorts, except for the fact that they are named after an iconic character. I am assuming if real, would love to see these idolized at the festival each year.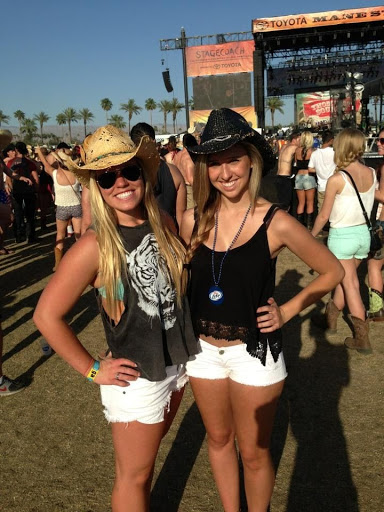 There are so many variations of cowboy hats, that I personally was not aware of. However, we are here for all of them and so are the majority of the patrons at the festival. This is clearly one of the must have accessories for 2022 so grab two for the weekend…or three.
We are all excited that music festivals are back open this year so let's make the most of it and showcase our best fashion. Whatever your style is we want to see it out!