Sustainable Fashion with Wholesale Price Tags
Learn how Sustainable Fashion with Wholesale Price Tags can help the environment, uplift your wardrobe, and even improve your business! Be kind to the Earth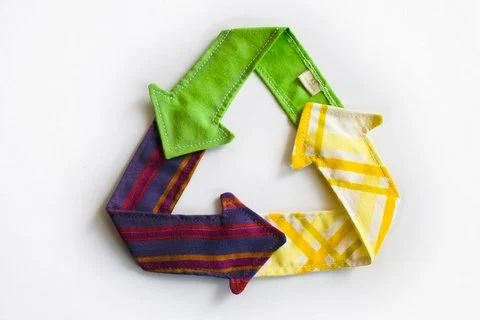 Who doesn't care about the environment? While I believe most of us do, we all can do better to help the environment on a daily basis. If you are interested in making changes then sustainable fashion should be on your mind. While it may not always be the case, raising awareness is helping. There is still a lot of work that needs to be done in regards to ways in which we can help our environment. One of the ways that has become more prevalent over the last decade is sustainable fashion. The serious repercussions that can be caused by the use of agricultural chemicals was first brought to light in 1962, in the book Silent Spring by Rachel Carson. It wasn't until the early 90s that the idea of eco conscious clothing was introduced. Two companies that immediately took the responsibility into their hands, ESPRIT and Patagonia. In 1992, ESPRIT launched the e-collection, both companies have helped to shape the eco conscious industry today. It is the responsibility of everyone to be aware of the potential waste this can cause. Especially as consumers we should get informed on the products we are buying and how they are produced as well. On the bright side there is an insurmountable amount of information available to the masses now, helping everyone do their part. With Earth Day upon us, it seems even more important to get familiar with ways we can help reduce harmful effects on our environment. And also the companies making it their duty to help by producing affordable sustainable fashion with wholesale price tags.
Fast Fashion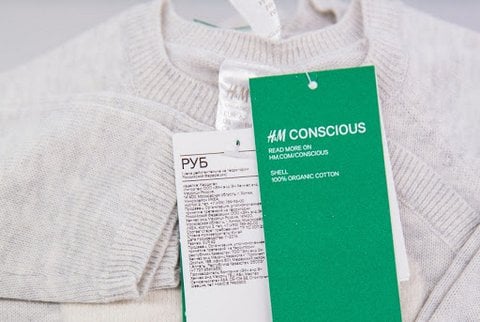 One of the many culprits against the idea of eco conscious clothing is the concept behind fast fashion companies. Companies that produce cheaper, accessible, and on trend items. The clothing available in these stores come and go just as quickly as the trends change. There are a plethora of companies that are deemed fast fashion companies that produce millions of garments contributing to the current unsustainable condition of the industry. In 2012 journalist Elizabeth L. Cline wrote the novel Overdressed: The Shockingly High Cost of Cheap Fashion, which began to shine light on how the rise of fast fashion companies and their items impacts the planet, our economy, and the consumers. Many companies, such as H&M, began to take note and started to introduce eco friendly lines to their brands. These changes have become more prevalent over recent years with fast fashion companies using organic cotton and recycled material to create a certain amount of their garments.
Hanes Brand Sustainability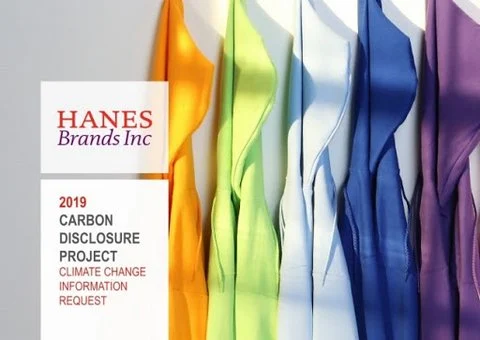 There are companies that have been making it a point to provide consumers with sustainable clothing for an extended period of time. Companies, like Patagonia, or fast fashion retailers do receive more praise, as their items are more in the forefront of the fashion industry. However the Hanes brand has been creating eco-friendly products for years, and shows no plans of stopping. The umbrella of the eco-friendly Hanes brand also includes wholesale Champion and Alternative blank apparel. The company has just announced their 2030 global sustainability goals, the company strives to "use science-based targets to accelerate reductions in greenhouse gas emissions." HanesBrand will continue to use recycled and raw materials to create more of their garments as well. The Hanes Brands lead the pack for affordable sustainable fashion with wholesale price tags.
EcoSmart Apparel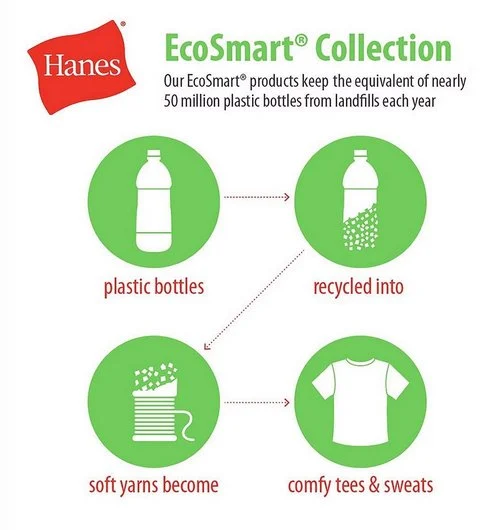 The Hanes Brand crafted an entire line dedicated to sustainable clothing options. This is monumental when you consider the amount of small and large businesses that use their products to create their own line of clothing or to print their designs on. This extends the line of sustainability, helping to reduce harmful emissions into the environment. The Hanes Ecosmart basic apparel line is rather extensive ranging from undergarments to blank sweatshirts. All of the items are crafted with 5% recycled polyester from plastic bottles. Hanes has stated that their Ecosmart products keep the equivalent of nearly 50 million plastic bottles out of landfills each year. We at Bulk Apparel wholesaler carry over 10 different products from the Hanes Ecosmart line in both youth and adult styles.
Do Your Part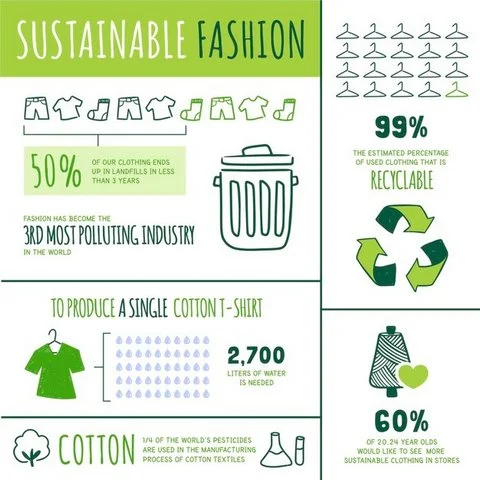 As previously stated, it is not ONLY the responsibility of the companies that produce the items. It is our responsibility as well to look into what it is that we are consuming. A majority of companies not only have made at the very least a slight attempt to change their practices, but they have also made this information readily available for us. With taking just a few moments to look into how a company operates we can slowly help to protect our environment. There is never too little that can be done with issues as vast as reducing our carbon footprint.
Earth Day

April 22nd is Earth Day, which is the perfect opportunity to take some of the information about sustainable fashion into consideration! And also think about other ways that we can continue to improve our environment. This can and should go beyond just shopping for eco friendly fashion. What may be deemed as simple helps far more than you may think. Simply using a reusable bottle for water or providing your own reusable bags while out shopping are all things that we can do to help propel this movement forward. Whether it's for your individual wardrobe or rather to start an apparel business, sustainable fashion with wholesale price tags is the answer.
What are some ways that you plan to push the movement further this year?