Our Top Picks For Wholesale Swimwear This Summer
Spring storms are a sign that summer is approaching. For clothing retailers, it means stocking for the sale of wholesale swimwear for summer.
As spring storms continue to sweep through the country, it's a sure sign that summer is fast approaching. For clothing retailers, it means checking the summer stock in preparation for the sale of summertime activewear and swimwear. Retailers near water parks, lakes, beaches, and pools can increase sales by stocking up with a few key wholesale swimwear selections.
Adding a small selection of wholesale swimwear to any retail location near swimming and water activities increases sales with last-minute impulse purchases. Waterpark, beach, lakefront and pool stores should also stock up on wholesale swimwear to cater to a built-in market of last-minute visitors who arrive without swimwear.
Clothing retailers need to stock up on wholesale swimwear, all retailers should offer a selection of multi-purpose wear for summer activities and swimming. A wholesale distributor with no minimum purchase that offers an essential selection of water ready wear is the best bet for retailers that are not specifically centered on clothing. Souvenir shops, sports accessory shops, as well as all retailers who are close to water activities can add to their bottom line with wholesale swimwear.
Top Picks for Active Summer Wear that Doubles as Swimwear
Affordably priced with no minimum quantities, these shelf-ready, multi-purpose picks for on-trend summer swimwear are the perfect choices for your needs.
The Burnside Heathered Board Shorts

The Burnside 9305 Heathered Board Shorts are currently available in 4 popular color selections including Blue Heather, Charcoal Heather, Green Heather along with Red Heather. This is the perfect addition to any seasonal boardwalk, beach, lake or water park retailer. This is an essential hot seller for hotel gift shops to accommodate guests who arrive without swimwear and would love to take a relaxing dip in the pool.
Burnside Women's Stretch Diamond Dobby Board Shorts

An especially popular women's wear item is the Burnside 5371 Women's Stretch Diamond Dobby Board Shorts. These 90/10 polyester/spandex shorts are an affordable offering for women guests who want to use the whirlpool, pool or gym and have checked in unprepared. Comfortable, easy wash and wear with moisture-wicking properties, these sports shorts that double as swimwear feature a drawcord at waistline with spandex fly and hook-and-loop closure. Available in three dynamic summer colors in sizes from XS to 2XL, these Burnside 5371 Women's Stretch Diamond Dobby Board Shorts are an ideal choice for gift shops, beach, lake, pool, and gym retailers to boost last-minute impulse sales.
Retailers can increase their sales expectations when they stock the Burnside 5150 Women's Rash Guard Shirt along with Burnside 5371 Women's Stretch Diamond Dobby Board Shorts. This 92/8 polyester/spandex shirt available in 4 colors in sizes ranging from S to XL is a complementing top for on the go sporting activities, swimming, and comfortable summer casual wear.
Burnside Women's Rash Guard Shirt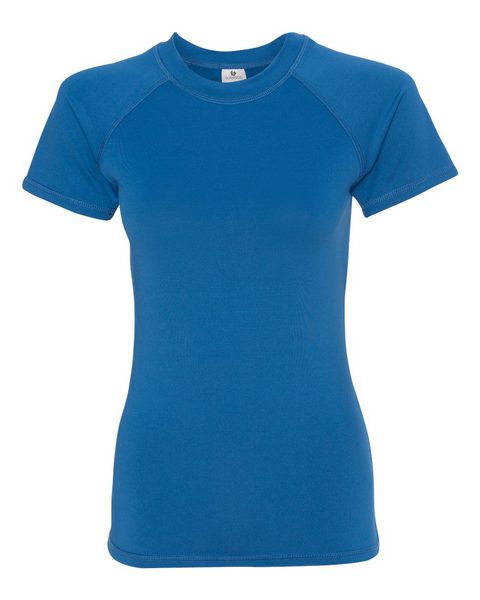 The all-purpose Burnside 5150 Women's Rash Guard Shirt is the perfect sun cover up with its 30+ UPF sun protection, comfortably cool fabric mixture along with its dyed to match stitching throughout neckline, body, and hems.
Retailers Get Ready for Summer with Wholesale Swimwear
Retailers of all sizes from small hotel and motel gift shops, lakeside boutiques and large boardwalk souvenir shops can stock up on affordable wholesale swimwear without becoming a bathing suit store. A wholesale distributor is ready to help you stock dual purpose vacation, getaway, and last-minute swimwear selections that will add impulse sales to your bottom line. To prepare your store for the forgetful swimmers that are sure to come looking for last minute swimwear visit bulkapparel.com, a wholesale distributor without minimum purchase requirements.