Brand Highlight: Next Level
Looking for premium quality wholesale blank apparel without the premium prices? Check out the BulkApparel brand highlight Next Level collection!
Next Level is probably one of the newest and most accomplished companies available at Bulk Apparel wholesaler. You simply cannot discredit the company for what they are attempting to, and have achieved in a rather short span of time. The company prides itself on creating products that feel great by utilizing premium combed ringspun cotton fabrics. But they also want to ensure those who are purchasing their products that they are receiving the best service possible. Next Level apparel has created a workspace for their employees that is healthy while taking the well being of their staff very seriously. Next Level wholesale apparel is definitely a brand that you should be aware of and here are some of our favorites that they have to offer. Say hello to our Brand Highlight Next Level!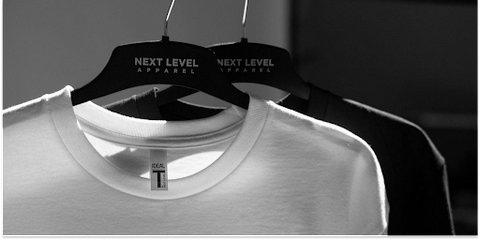 One of the best selling bulk Next Level apparel products we sell, this is the perfect basic t-shirt guaranteed to meet all of your needs. One of the company goals is to create pieces that are fashionable and provide the utmost comfort. Which is why we thought it necessary to brand highlight Next Level. I think it is safe to say that goal was achieved, made with 100% pre-shrunk combed and ringspun cotton. The 3600 is a lightweight basic shirt, ideal for the upcoming spring to which you can layer under a jacket or sweater.
This may be one of the most polarizing items that Next Level has to offer. Is it a blank long-sleeve? Is it a basic hoodie? Or is it a t-shirt? When you touch it you may think it is a blanket because it's so incredibly soft. There are many directions this item can go, and honestly it is just a unique piece that is a little bit of everything. Like many of its' counterparts, the 6021 is a unisex fit, which is perfect because anyone that gets their hands on this is going to want to keep it. Made from the perfected tri-blend formula, 50% polyester, 25% ringspun cotton, and 25% rayon. This is comfort perfected, finished with a slight draped fit to create a relaxed but fashionable fit.
I know it's just about Winter but you never can be too early to Get Back to Basics for Spring. We should get a jump on some items that will be best suited for the perfect weather we all love. This racerback tank top is a great place to start the closet revamp journey. Just lightweight enough where it can be layered under your favorite jacket but can also keep you cool when we eventually hit with the summer heat. The softness of the 60/40 combed ringspun cotton/polyester blend will want you ordering more upon the first try on. Luckily for us all this perfected piece is available in over 20 colors.
Is it beyond apparent that I have some sort of affinity towards dyed items? I mean how could you not, the vintage washed look, the softness of the cotton, you just can't lose. However, we are moving past that. The dyeing of garments produces softer shades, and captures a lived-in look and feel replicating your favorite vintage shirts. Next Level has perfected this formula, creating a visually vintage with all of the modern sensibilities. Made with 100% combed ringspun cotton this is almost a shoo-in for your new favorite tee.
Baseball season is approaching and if that is not your lane, then hopefully timelessly classic t-shirts are. Because Next Level has got something you should be checking out. Another unisex item from Next Level, made from their tri-blend 50% polyester/25% combed ringspun cotton/ 25% rayon will provide you with easy breezy comfort. The 6051 is a beautifully made blank baseball tee that has a subtle drape to the shirts silhouette. Basically ensuring this vintage raglan shirt the ideal fit. Available in some of the most unique color combinations I have seen, you will absolutely find something that fits your taste. Even if you hate sports, the classic baseball raglan tee looks cute on just about anyone. And its extra comfy too!
Want to sport a sexier more sophisticated t-shirt? And show off that clavicle? The V-Neck is a classic cut that creates a sleek and modern silhouette. Made with a 60/40 combed ringspun cotton/polyester blend. The 6240 is made with a set-in collar, and is side-seamed to form a slim, fitted shape. This is versatile year-round and is lightweight, weighing a little more than 4 oz. Also all of the colors available scream fun! How can one not indulge?
It is fascinating and inspiring to watch Next Level enter the market and create a name for themselves creating quality garments, and we are waiting to see what they do next. We know you will love our BulkApparel brand highlight Next Level edition! Check out all of their current items here at BulkApparel wholesaler, your number one source for wholesale blank apparel!