True Romance of Music & Fashion
Discover the true romance of music & fashion and let BulkApparel wholesaler help you create your own favorite graphic band tees!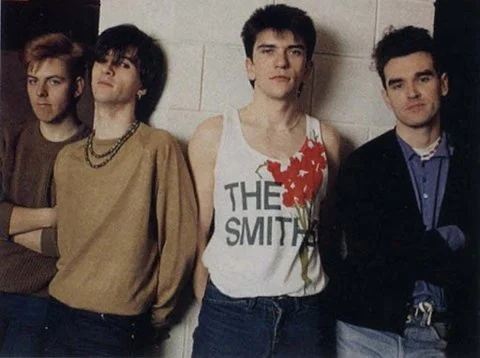 Growing up I can honestly say that nothing affected me greater than both fashion and music. But most specifically, the true romance of music and fashion. I hate to sound like a walking cliché, but I found ways to express myself through both music and fashion. And I don't think I would have been able to otherwise. And I was truly able to find myself through both outlets. Before I turn this into my weekly journal entry, we can skip ahead and say I am not alone. Both allow us to exhibit personal expression and also help us find those with similar ideals. Thus creating human connection without having to engage in conversation. The two go hand-in-hand, and complement each other effortlessly. Once you have identified with a certain aspect of a culture you begin to adapt certain characteristics. I know I am not the only one who went to the local Sally's Beauty Supply store immediately after watching the "I'm not okay (I promise)" music video. Some may say nothing influences fashion more than music, and depending on who you ask, vice versa. This is what I mean by the true romance of music & fashion.
The 1980's: Anything Goes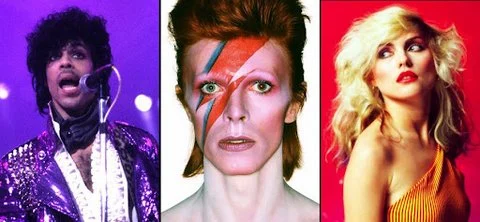 I can start with the 50's and the beginning of Rock n' Roll, and how that affected society's perspective of fashion and trends. Acts like Little Richard and Elvis created very distinct looks with quaffed hair and their own spin on American fashion. And this certainly did play a rather large role in shaping how later artists would style themselves. However, in my personal opinion it wasn't until the 1980's when the music and fashion industry merged in such a special way. No matter who you were or where you were from you now found a way to express yourself. Starting with the boom of Hip-Hop music and fashion into the mainstream to pop artists such as Madonna and Prince creating avant garde looks. To be honest, looks that the average person could never truly pull off, but not without trying. And then onto the rise of underground Punk and Hardcore bands who helped shape what we know as streetwear today.
Hip Hop Emergence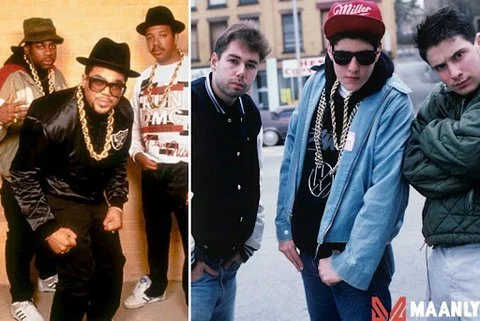 In the early 80's Hip-Hop culture came onto the scene with a vengeance, telling a story from the voices that were silenced in mainstream. This gave the world a look at a side that it may not have had access to otherwise. In later decades Hip Hop influenced fashion in undeniable ways, so we will delve deeper into later. But it was many aspects that impacted this decade, from Run DMC single handedly putting the Adidas Superstar in the forefront of modern fashion, to the Beastie boys combining suburban culture and hip hop fashion together. And thus creating their own lane.
This was an entirely new genre of music for the mainstream but it caught on rather quickly. And not before long, everyone had to have a Kangol cat, a large chain the bulkier the better, and a nice pair of sneakers. It may appear that hip hop was dominated by men at this time, however on the contrary. There were plenty of women who were making a name for themselves and creating their own spin on hip hop fashion. Sportswear was all the rage at this time, with the introduction of the Nike Air Jordan in 1984 to the popularity of the Adidas superstar, it was impossible to complete an outfit without one of the aforementioned brands. Undoubtedly a true romance of music & fashion.
Provocative Pop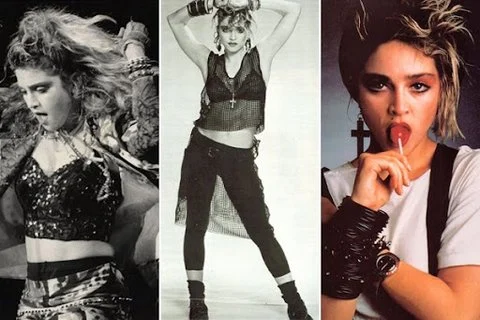 One of the biggest influencers in fashion is Madonna. She crafted a style that was unique, outlandish, and at times quite provocative. The most compelling thing about Madonna however, was that she didn't care about the criticism. If anything she embraced the critique and used it to her advantage. For many young women this all they needed to feel as if they too could express themselves no matter what anyone had to say. And in turn embrace all aspects of themselves. There wasn't a girl in the world who didn't want to emulate the style and attitude that Madonna exuded. And not a single wedding dress went untouched the rest of the decade. Not only did Madonna create a style that every young adult wanted to emulate, but also her peers. A lot of pop singers around this time began trying to replicate Madonna's style and image. The excessive pearl necklaces, the lace gloves, and of course leather jackets were everything around this time. Artists such as Cyndi Lauper helped to propel this style while artists such as Joan Jett took this style and added her own androgynous flare to it.
Heavier Trends: Metal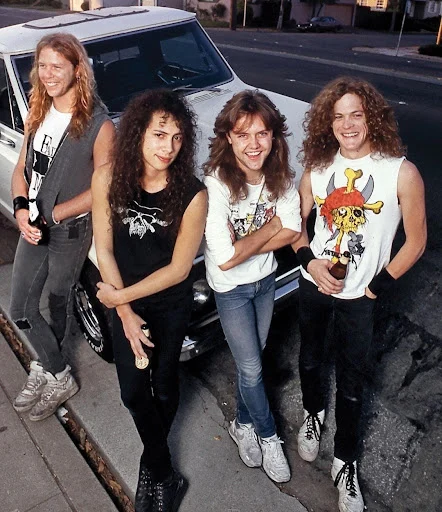 I think initially when thinking about fashion within heavier music, specifically in the 80's, you may think of hair metal. You probably also think of Motley Crue and Poison or one of the other hundreds of hair metal bands that were dominating the facet of music at the time. However, this style never transcended past the artists themselves, perhaps due to the fact that this style was larger than life. On the other hand there was another type of metal music that was grabbing the attention of young fans at a rapid pace, as well their fashion choices, thrash or heavy metal. Artists like Metallica had a very distinct style of music and fashion that their audience was so drawn to and flocked to in drones. I'm talking about skin tight denim, cut off band basic t-shirts, and denim jackets or vests. This became the uniform of both the artists and fans alike. One of the most compelling aspects of this is that, based off of appearance, you may not be able to draw a distinction between the artist and the audience. This becoming a largely noticeable aspect of alternative music genres.
Heavier Trends: Punk/Hardcore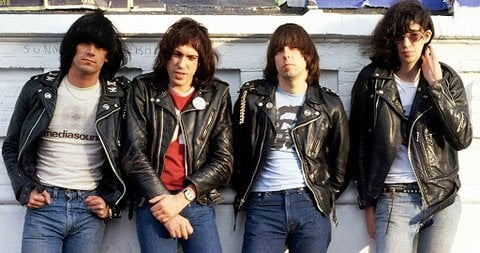 A genre of music that may not seem that important on the surface is in fact one of the most influential out of the bunch. Wildly important to the fans of the music as well as the outside world. The cultural impact the world of punk rock and hardcore music had is quite astounding. Especially considering it is such a niche sector of music. Punk music came onto the scene in the late 70's and early 80's with decorated leather jackets, ripped denim, and doc martens. This was a look that the masses were not familiar with but would slowly adopt in the not so distant future. When we think about trends in fashion today, you can still see the influence that the original punk movement made. From companies producing items such as leather jackets that are spiked and veiled with patches of punk bands of the 80's, to simply everyone and their mother owning a Ramones t-shirt, the impact has been prevalent for decades.
This is a more niche genre of music, however the influence on modern fashion is too impactful to not acknowledge. The hardcore music scene began to take shape in the 80's with a vast amount of bands coming into fruition around this time, from all over. However, there was a specific group of bands who single handedly crafted a look that would become the blueprint for modern streetwear culture. The youth crew movement was large within hardcore, meshing collegiate and athletic aesthetics to become a distinct group within the community. Usually wearing customized varsity jackets, hooded sweatshirts donned with sweatpants, or cuffed jeans. Now all that completed with athletic sneakers, they definitely stood out from their peers. It can be argued that this is the foundation of what we know now as streetwear, to the point where prominent streetwear companies such as The Hundreds and Noah NY have attested that this was a major influence on their respective companies. As well as their culture as a whole. Both companies have produced exclusive items for two of the most prolific bands from this genre, Youth of Today and Gorilla Biscuits.
These are just a few examples of the tremendous impact music has had on fashion. Again the true romance of music & fashion! If you find yourself feeling creative and want to make your own favorite band graphic tee, we at BulkApparel can help. Check out DIY T-Shirt Trends for tips on creating graphic tees, tie-dye, and more!