DIY Cloth Face Coverings
Learn how to make DIY cloth face coverings from wholesale tshirts and fabrics from home! No sew/sewn face cover instructions and premade face cover options!
Amid the Coronavirus pandemic, we are all trying our best to slow and prevent the spread of COVID-19. We are practicing social distancing, washing our hands frequently, avoiding touching our faces, and trying to stay inside our homes as much as possible. While DIY cloth face coverings are not a replacement for such measures, they could be beneficial to slowing the progression of the coronavirus. According to the CDC, "a significant portion of individuals with coronavirus lack symptoms and even those who eventually develop symptoms can transmit the virus to others before showing symptoms." Recent studies have shown that coronavirus could be spread through close interaction among people. This could include coughing, sneezing, or even just speaking close to someone else. With this in mind, the CDC is now recommending we wear cloth face coverings in any public setting where you might not be able to stay 6 feet away from another person. So before heading off to the grocery store or the pharmacy strongly consider wearing a cloth face covering. However, even with a cloth face covering it's extremely important to try and maintain the 6 feet of social distancing.

How to make a cloth face covering at home:
Please remember these DIY cloth face coverings are not surgical masks or N-95 respirators. Those both are considered critical supplies for healthcare/medical workers and currently in short supply. So if you wish to wear the voluntary cloth face coverings as advised by the CDC, here's a quick guide to make your own. It's quite easy to fashion your very own DIY cloth face covering. You could use quilts or sheets you already own or common materials for purchase at low costs such as wholesale t-shirts. Your DIY cloth face covering should be comfortable, breathable, and fit snugly with ties or ear loops. It is recommended to use multiple layers of fabric that can be machine washed and dried without damage. Not all DIY cloth face coverings have to be sewn as seen in this easy no-sew t-shirt face covering tutorial. Below we have instructions for both no-sew and sewn cloth face coverings.
Check out this video from the CDC on
DIY T-Shirt Face Covering:
This is a super simple method and requires nothing but a t-shirt and some scissors. If you don't have any t-shirts laying around that you want to cut up, try purchasing from a t-shirt wholesaler like BulkApparel, ShirtChamp, or ShirtWholesaler. Wholesale distributors are able to sell high-quality brands and items at a fraction of retail cost and offer bulk discounts. Here's another website that sells retail. CDC reccomended Cloth Masks


Do it yourself t-shirt face cover instructions.
1. Lay your t-shirt flat in the direction you would wear it. Measure 7-8 inches vertically and then proceed to cut all the way across in a horizontal direction (cutting the front and back of the t-shirt at the same time.)
2. In order to make the strings of the t-shirt face covering, measure 6 inches horizontally starting at the edge into the rectangle you just cut.
3. Cut out a 6 inch rectangle across leaving a bit of room at the top and bottom. (The bit of room you left will be the ties of your DIY t-shirt face covering.)
4. Make a small cut in the middle of the strings so that you are able to use them as ties.
5. Now tie them securely around the back of your neck and top of head. It's that easy!
Take a look at these low cost wholesale t-shirt options!
This bulk wholesale t-shirt consists of incredibly soft 100% airlume and ringspun cotton. Available in 98 colors at an always low wholesale price. This is a perfect wholesale tee for anyone that wants their DIY t-shirt face covering extra soft!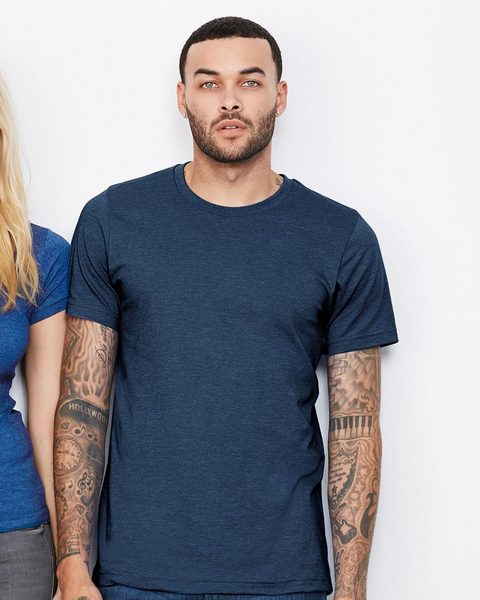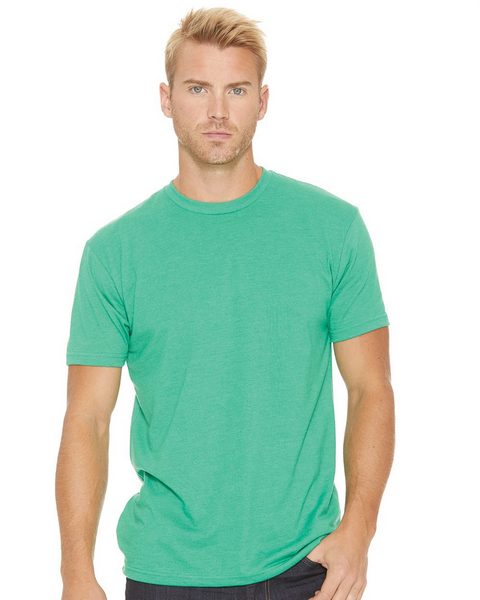 The Next Level 6210 wholesale t-shirt is incredibly affordable and low cost making it great for DIY t-shirt face coverings. This wholesale tee is made of lightweight and breathable 60/40 combed ringspun cotton polyester and comes in 30 colors.

Sewn DIY Cloth Face Covering:
I know some of you out there are crafty and even own a sewing machine. This one's for you! This is a basic guide to a sewn cloth face covering. Again you could use sheets, sweatshirts, t-shirts or other fabrics you have around the house.
1. Start off by cutting your fabric into 2 rectangles each 10 x 6 inches. Then place one rectangle on top of the other because you are going to sew them as one piece.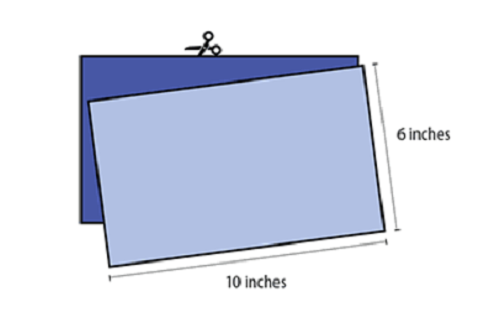 2. Take the long sides and fold them over about 1/4 inch and stitch. Take the short sides and fold them over 1/2 inch and stitch.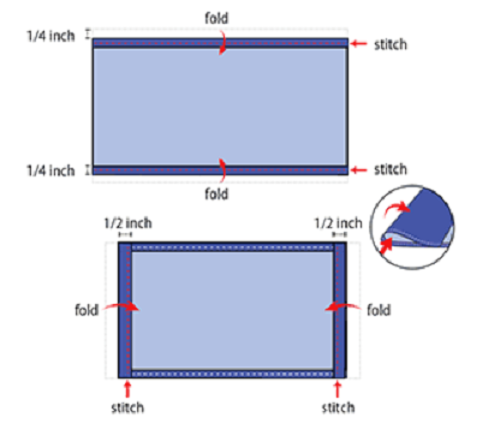 3. You will need 1/8 inch wide elastic for this step. Cut 6 inches of your elastic and using a needle or bobby pin push through the wide hem on the short sides of the mask. (These will be ear ties/loops.) Don't panic if you do not have elastic to use; even hair ties or string would work.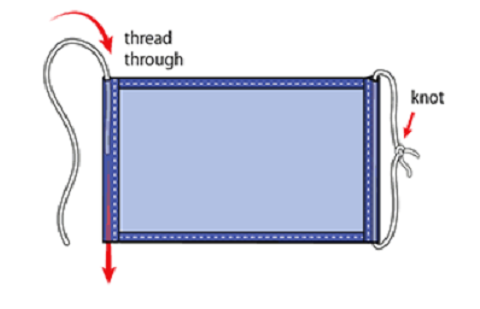 4. Now you are ready to adjust and secure your mask onto your face.

For anyone wanting to make a thicker cloth face covering you can try using a soft fleece fabric like that of some sweatshirts. If you can't find a sweatshirt at home I suggest a low cost wholesale sweatshirt like this one below.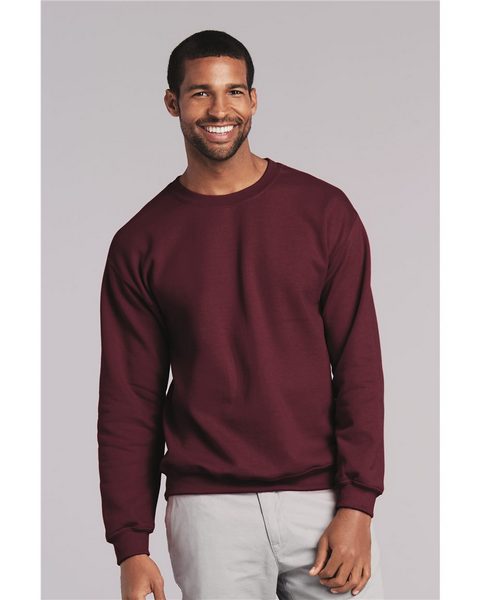 Washing Instructions for your DIY Cloth Face Covering:
Carefully remove your used face covering without touching your face. Wash your hands right away after removing your face covering. Throw your re-usable cloth face covering in the washer machine and continue to wash it regularly followed by the machine dryer. This will sufficiently clean it.
Where to get cloth face coverings if you don't want to make your own?
Even though it can be super easy to make your own DIY t-shirt or cloth face covering, there are some who would rather just purchase some at an affordable rate. To assist those of you this applies to, I recommend BulkApparel.com for packs of 24-120 and VirusCovid19masks.com for smaller quantities. Both supply quality daily re-usable cloth face coverings at low rates. It's a good idea to start wearing a cloth face covering either by purchasing or making your own. Hope some of this info helps! Stay safe everyone!