What Is Discharge Printing?
So what is discharge printing? Discharge printing is a specialized method of printing designs, artwork, or logos on blank t-shirts, blank hoodies, and other wholesale apparel by removing the color from the fabric rather than adding color to it. This apparel printing process is commonly used to create soft, lightweight, and high-quality prints, especially on dark-colored garments.
The Process: What is discharge printing?
Preparation: First off you want to create your image or artwork. You will want to use a graphics software to create your custom logo or design for your custom apparel. For discharge printing you want the custom design to be separated by each color and each color needs a clear film positive of its own. To reduce your set-up costs try using less colors. Also the use of distressed filters on your custom logo or design, as well as using the blank shirt color as the background color, are great ways to maintain softness. Discharge printing works best on natural, cellulose-based fibers like viscose, 100% cotton, or cotton blends.
Screen Printing: The desired design is screen-printed onto the fabric using special discharge inks, which consist of color pigment, binding agents, and obviously discharge agents. I recommend Jantex Inks for quality pro discharge ink supply. And also your custom screen that has a high mesh count and thinner mesh thread. Stay tuned for our next BulkApparel blog on how to make a custom screen for screen printing.
Curing: The printed fabric is then passed through a heat curing process, usually involving a conveyor dryer or heat press. Read the ink manufacturer directions for specific drying temperatures. The heat activates the discharge agent in the ink, which begins to neutralize the dye in the fabric.
Color Removal: As the discharge agent is activated by heat, it breaks down the dye molecules in the fabric, essentially removing the color in the areas where the ink was applied. This process results in a light or white print on a darker fabric, or even a colored print depending on if you used clear, white, or color discharge ink mixed with the additive.
Washing: After properly curing your custom printed tee, make sure it's thoroughly washed to remove any residual discharge ink and chemicals. This step is crucial to ensure that the garment is safe to wear and doesn't irritate the skin.
Discharge printing offers many known advantages, such as producing soft, breathable, and long-lasting prints that are integrated into the fabric rather than sitting on top of it. It is particularly popular for creating vintage-style or distressed designs on blank shirts because it doesn't leave a heavy layer of ink on the fabric.
However, one of the limitations of discharge printing is that it works best on certain types of fabric, mainly cotton and cotton blends, and may not be as effective on synthetic materials. Additionally, this process requires a bit more skill and experience to achieve consistent results, as controlling the discharge agent and curing process is critical to the quality of the print.
I personally love discharge printing on garment-dyed apparel like Comfort Colors for that unique vintage style print. Since it's sweater weather here are a few of my favorite Comfort Colors blank styles for Fall. The Comfort Colors 1566 Garment Dyed Ringspun Crewneck Sweatshirt is delightfully soft and only gets softer with each wash. Made of 80% ringspun cotton and 20% polyester, it is a best seller among DIY and apparel design lovers. Plus it's available in 20 uniquely beautiful colors.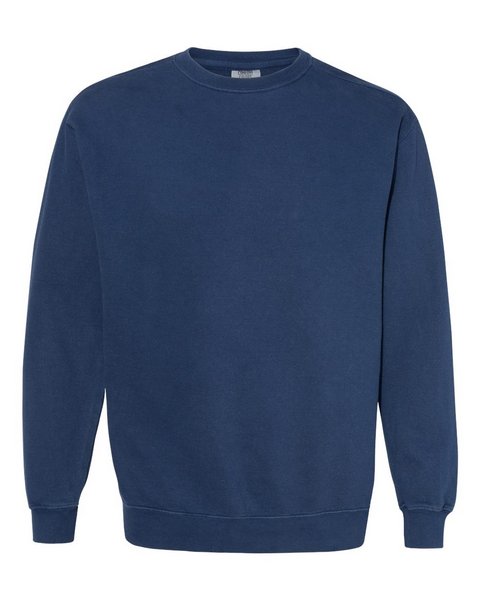 Wholesale long sleeves, like the Comfort Colors 4410 Garment Dyed Heavyweight Ringspun Long Sleeve Pocket T-Shirt are another essential basic staple for the Fall season. Available in 32 natural hues, the 4410 boasts premium comfort and extra soft 100% ringspun cotton with a trendy left chest pocket. So obviously the 4410 made the list of our what is discharge printing? blog.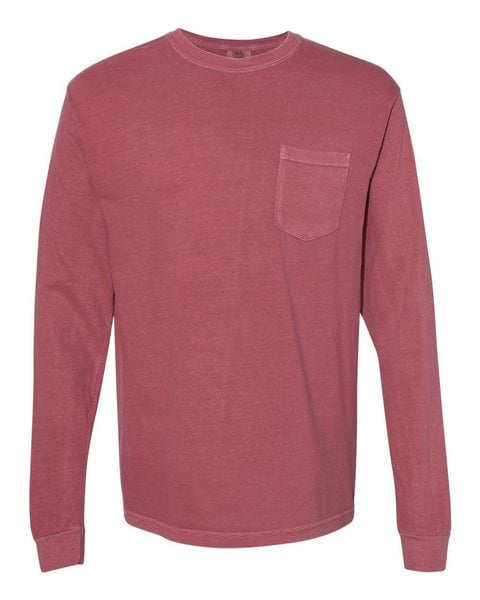 Since sweater weather wouldn't be the same without basic hoodie sweatshirts, my last recommendation is the wholesale Comfort Colors 1567 Garment Dyed Hooded Pullover Sweatshirt. The 1567 consists of 10.0 oz., pre-shrunk 80% ringspun cotton / 20% polyester and premium soft washed garment dyed fabric. Extra soft and cozy makes this basic hoodie a must-have for Fall.