What is combed ringspun cotton?
What is combed ringspun cotton? Why should I print on combed ringspun cotton t-shirts? BulkApparel wholesale has the answers to these and where to buy them!
You may be wondering what is the difference between a 100% combed ringspun cotton t-shirt and a regular cotton tee. Basically not all cotton fabrics are created equal and combed and ringspun cotton offers some huge advantages. Especially if you want to easily start a t-shirt business these advantages mean better quality shirts, better t-shirt prints, and ultimately better sales. But I'll get into all the specifics later on as I answer "What is combed ringspun cotton?"
What is Regular Cotton?
But first let's talk about regular cotton. Manufacturing a basic regular cotton tee involves twisting the fibers to create a soft yarn. Then by weaving the soft yarn together it becomes a cotton fabric. This is going to be the most basic and common cotton fabric you will find. Regular cotton costs less than combed ringspun cotton but it's going to feel rougher on the skin.
What is Combed Ringspun Cotton?
It's called ringspun due to the specific manufacturing process. With the ringspun process the cotton yarn is continuously spun and twisted in order to produce thinner, longer, and softer threads. Even thought this may sound like it weakens the fabric, it's far from it. The threads produced from the ringspun process are exceptionally durable. After spinning the cotton fibers they are then combed of impurities, resulting in an incredibly smooth texture. Now if you are like me you will only want to wear 100% combed ringspun cotton for that cloud-like softness. Or print on and I'll tell you why.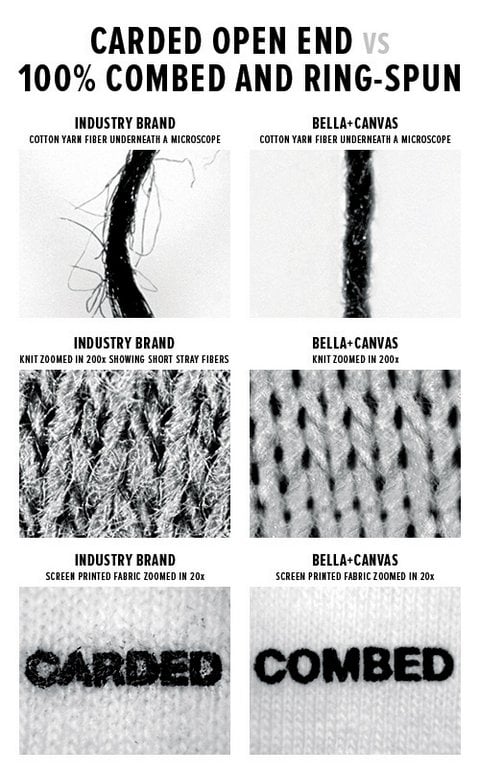 Advantages of combed ringspun cotton
Combed and ring spun cotton offers quite a few advantages over regular cotton. As I mentioned before, the enhanced softness makes that cotton t-shirt or hoodie so much nicer to wear. Unlike regular open-end cotton, ring spun cotton fibers are all aligned in the same direction, contributing to the softer feel. This is exactly the kind of basic apparel that you will actually want to relax in. Some brands like Bella + Canvas only use combed ringspun cotton in all of their wholesale blank apparel.
Secondly the face of a combed ringspun cotton t-shirt is extra smooth for a perfect printing surface. Whether it's screen printing, direct to garment printing, or heat transfers, this is the cotton fabric you want to use for crisp and clear prints.
The last main advantage is the strength and durability. All the twisting compacts the fibers together in such a way that makes it very strong. Much stronger than regular open-end cotton.
Disadvantages of combed ringspun cotton
Are there even disadvantages? Other than being slightly more expensive than regular cotton, other disadvantages would pertain to all cotton fabrics. These being that cotton doesn't dry quickly, is prone to shrinkage, and is far less durable than a fabric like 100% polyester. Also if you are into sublimation printing then 100% cotton tees are not for you.
Printing on combed ringspun cotton
Printing options for 100% cotton are almost endless as it's the most printable fabric there is. With of course the exception of sublimation printing.
Heat press printing and heat transfers look better than ever with 100% combed ringspun cotton due to the smooth and tight weave. This fabric is super resilient so is suitable for a wide range of printing temperatures as well as times.
Screen printing is another insanely popular method of printing t-shirts and apparel. Screen printing on cotton limits the risk of dye bleeding and dye migration so it's easier to get a clear print. When screen printing on regular cotton it can look fuzzy and uneven resulting in a lesser quality print. So again you will want to use a combed ringspun cotton t-shirt.
If you have heard of DTG printing you probably know that it means direct-to-garment printing. To dumb it down, it's like using a normal printer but instead of paper it's a t-shirt. Just like how printing a picture on high-gloss paper would get a very high-quality print, the same concept applies here. Ideally you want the flattest and smoothest surface for the highest quality and highest durability print. A 100% combed and ringspun cotton shirt is going to have fewer fibers sticking up which could negatively affect your DTG print.
These are only a few of the printing methods that work best with this luxuriously soft fabric. You can go crazy with DIY tie-dye, cricut, discharge printing, silk screening, and etc.
DIY Tie Dye
Most dyes apply better to natural fibers like cotton so the more cotton your shirt has the better your DIY tie-dye is going to come out. By now I'm sure you can infer that DIY tie-dye would also look better on high-quality garments. For a how to guide and tips for tie-dyeing cotton as well as polyester, read my other blog DIY Tie-Dye like it's 2022.
Does combed and ring spun cotton shrink?
Yes, all cotton will shrink when exposed to high heat. However, many premium combed and ringspun cotton t-shirts on the market have already been pre-shrunk for you.
What is airlume cotton?
When shopping for 100% cotton tees you have probably stumbled across a term called airlume cotton. You might have noticed these airlume cotton t-shirts are a bit more expensive than the average regular cotton t-shirt. But that's for good reason and is definitely worth the small bump in price. Airlume cotton is the next step up from combed and ringspun and is the highest quality 100% cotton apparel you can get. It is also going to be the softest because 2.5X more impurities are removed than standard ringspun cotton during the lengthy combing process. Additionally, airlume cotton uses only long cotton staples which means less stray fibers during spinning. And ultimately the smoothest print surface. BulkApparel offers some exceptional airlume cotton tees like this one, the Bella Canvas 3001 unisex short sleeve t-shirt.
Where can I buy 100% combed ring spun cotton t-shirts and apparel?
While there are many retailers that sell combed ringspun apparel, save yourself some hard earned money and buy from an apparel wholesaler. Some blank apparel wholesale distributors such as Bulk Apparel require no minimum purchase and no license or account. The wholesale pricing is a fraction of retail price and they also offer free shipping and bulk order discounts for larger orders. Whether you are buying a few or a few hundred t-shirts, be smart and shop wholesale bulk apparel.