It's almost Super Bowl Sunday 2023, if you haven't heard…. And what's great is you don't even have to be a football fan to enjoy the Superbowl party festivities. But you should know at least some basic info. Who is playing in the super bowl 2023? What time is the super bowl? Who is performing the half-time show? No worries,
Bulk Apparel
has got you. It's Eagles vs. Chiefs for Superbowl LVII on Sunday February 12 with kickoff at 4:30pm (MST). QBs Patrick Mahomes and Jalen Hurts will face off at the State Farm Stadium in Glendale, Arizona. And get ready for the half-time performance from Rihanna, it's going to be awesome! Alright now that we've taken care of the basics now you just need some tailgate party essentials. This includes
koozies
,
trucker hats
, and Superbowl Sunday DIY shirts!
Using our wholesale Champion S700 Double Dry Eco Hooded Sweatshirt let's make some Eagles or Chiefs hoodies. The Bulk Apparel Champion S700  is a cozy, moisture-wicking and eco-friendly 9oz. 50/50 hoodie with 5% recycled polyester from plastic bottles. There's a few things to consider when screen printing on 50/50 cotton/poly blends.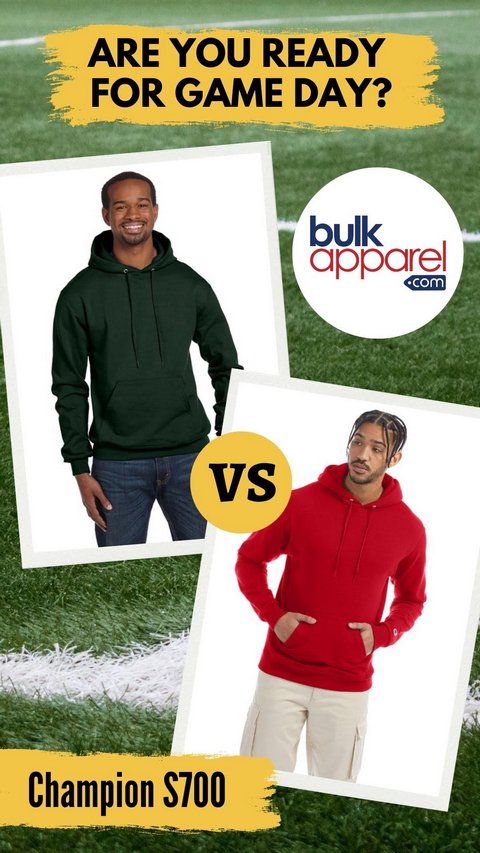 HEAT AND POLYESTER
A difficulty with printing on blank shirts containing polyester is that the necessary temperatures for screen prints can cause the dye in the polyester to sublimate up into the ink.
Want to know about sublimation? Bulk Apparel Sublimation 101
To minimize dye migration and fabric shrinkage we are going to lower the temperature and use either a low-cure ink or a low-cure ink additive. Plastisol inks will give the best results with polyester blends, nice and bright. However some people don't love the stiff feel. For a softer and more eco-friendly print on polyester you can use a water-based ink, however, you will need to use an underbase otherwise known as a discharge agent. One-stroke white or gray underbase is recommended to reduce the chance of dye migration.
Just like for 100% polyester shirts, drop the temperature to 270-300 degrees Fahrenheit. Make sure you follow the instructions specific to your chosen ink.
THIN INK DEPOSIT IS THE GOAL
You will want to use a much thinner ink deposit. Basically if there is less ink there will be less heat time needed to cure the ink. So ultimately less heat means less of a chance of scorch marks, dye bleeding, or shrinkage.
SCREENS AND TENSION
Tension is important here for the best t-shirt printing results so use higher screen mesh counts with higher tension like a range around the mid 20 N/cm. If the tension is looser you will need greater off-contact(distance between the screen mesh and the fabric) and a lot more pressure to get the print. So what are the cons of this? This will undoubtedly affect the opacity of your design leading to more and more ink being used to get the desired result. The excess of ink is going to force you to cure and heat the print longer. And like I mentioned above, this can create somewhat disastrous results. Printing on polyester t-shirts and apparel doesn't have to be scary, as long as you follow the tips.
Check out this great video from CharliMarieTV for a real DIY screen print method at home.
Now if you don't already have a screen printing set-up don't worry. We at Bulk Apparel Wholesaler have another option for you to create your Superbowl Sunday DIY shirts. Try heat press printing or simple iron-on heat transfers.
For the ladies this Super Bowl check out our blank women's jersey tee by LAT, ready for printing and customization. The LAT 3537 Women's Football V-Neck Fine Jersey Tee has a flattering feminine cut and is made with extra soft combed ringspun cotton.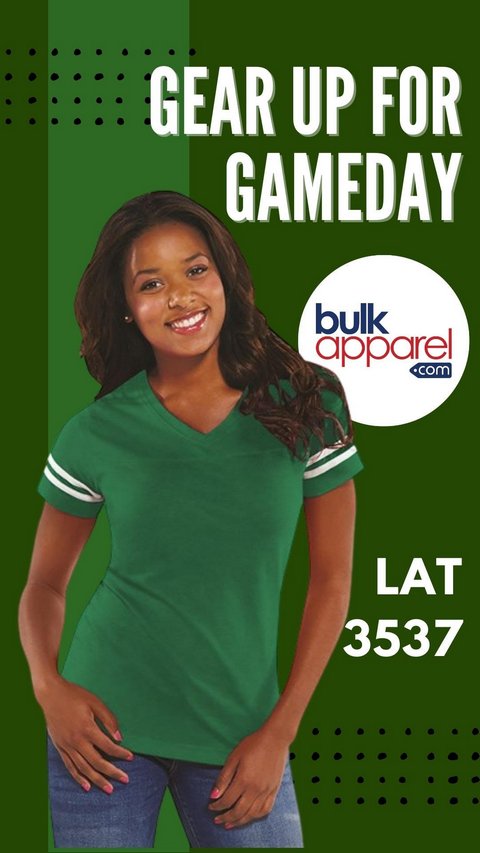 DESIGN YOUR ARTWORK 
Creating your custom design is pretty easy if you use a graphics software or use a company like Transfer Express that sell custom heat transfers. You are able to use their artwork or upload your own. Now if you made your custom apparel design using a software, flip the image horizontally to produce the reverse image.
TRANSFER YOUR DESIGN
Use any inkjet printer and of course heat transfer paper to print out the reversed digital image. Iron on transfer paper is an incredibly affordable means of apparel printing.
PRINTING
Heat press or iron your blank t-shirt or basic hoodie for about five seconds to help remove any wrinkles or moisture. Remove the backing from your transfer and carefully place on shirt. Always follow the transfer paper directions for heat temperature and duration for your heat press or standard iron. See, it's easier than ever to make the perfect tailgate party or Superbowl Sunday DIY shirts!
Here at BulkApparel, your favorite blank apparel wholesaler, we aim to provide not only low cost high-quality wholesale apparel but also quality info. We offer apparel printing tips for everything from foil printing to dye sublimation, tie dye and so much more. Everything you need to help you start your artistic projects or start your very own t-shirt brand.