Guide to Polyester and Printing on it
What are the pros and cons of polyester for branded tees and apparel? Much to consider in our Bulk Apparel wholesaler guide to polyester and printing on it.
There's no doubt that for decades cotton truly has been king. But it's 2022 and as a consumer or a retailer the fabric options seem to be endless. We at Bulk Apparel have been in the blank apparel wholesaler game a long time and while cotton remains our best seller, we have seen an enormous influx of interest in polyester. Interest in polyester for athleticwear, casualwear, and even workwear. But what is polyester? Why should I wear polyester? What if I want to screenprint or tie-dye my polyester t-shirt? Are there disadvantages to using 100% polyester t-shirts for my apparel brand? These questions among others are quite common and we here at BulkApparel.com have the answers in our Guide to Polyester and Printing on it.
What exactly is Polyester?
Polyester has been around for quite some time dating back to the 1930's. Ironically the scientist who made the discovery put the project on the back burner in order to focus on nylon. But how could he have known how versatile and prevalent polyester fibers would become. Polyester fabric is made from plastic. But how do you turn plastic into soft, wearable material? We learned from Plastics Make it Possible that "to make polyester into fibers, the plastic is melt spun, meaning the plastic is heated and forced through spinnerets into fibers. The fibers are then stretched to five times their length, typically combined into yarn and then weaved or knitted into polyester fabrics." See, you learn something new every day.
Pros of Polyester Apparel
Personally I love polyester in my athletic wear. Not only is it lightweight and durable but also quick drying with moisture-wicking properties. And if you have ever done a hot yoga class, you know this is key. 100 percent polyester t-shirts tend to have a smooth surface and somewhat of a shine which can be great depending on what you are looking for. Many brands such as Gildan and Jerzees have opted for a 50/50 cotton poly blend to combine the softness and breathability of cotton with the benefits of polyester. Who said you can't have the best of both worlds?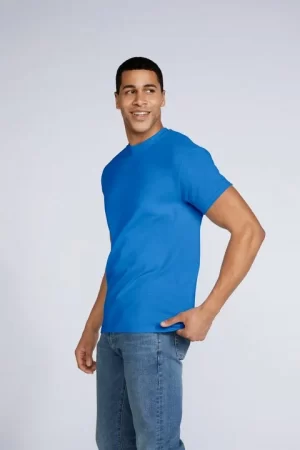 The G800 Gildan T-Shirt 8000 DryBlend 50/50 is a great place to start if you want to include a 50/50 basic t-shirt into your brand. The G800's claim to fame really is affordability and durability, plus the DryBlend moisture-wicking capabilities. Not to mention this blended blank tee comes in over 40 colors.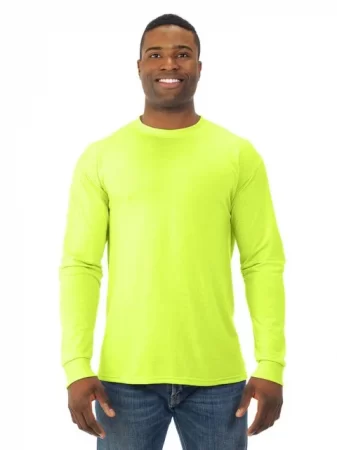 The versatility of polyester doesn't stop at athletic apparel and casual wear though. Polyester's resistance to sunlight, stains, and wrinkles also make it an exceptional choice for workwear. The Jerzees 21MLR Dri-Power Sport Long Sleeve T-Shirt for example is great for inside, outside, and anything in between. Stay cool, dry, and odor free all day long with one of my favorite 100% polyester wholesale tees. Plus it's available in safety green for any work environments which require high-visibility.
Screen Printing on Polyester
When it comes to printing on polyester it can be tricky depending on the type of print. Typical methods of printing t-shirts and other blank apparel include screen print, dye sublimation, direct to garment(DTG), heat press, htv, and etc. First let's discuss screen prints on polyester shirts. Screen printing or silk screening on 100% polyester or even a blend can be at risk for dye migration. To combat this issue for say a 50/50 cotton poly blend you can use a nylon bonding catalyst additive. But for 100% polyester there are special inks like low bleed plastisol or low cure ink. Check out ScreenPrinting.com for quality inks and supplies as well as pro tips for printing t-shirts.
Heat Press Printing on Polyester
Now the key to heat press printing on polyester is to make sure it doesn't get too hot. Ideally you want to keep the temperature under 300 degrees Fahrenheit. It is also very important to choose the right heat transfers that will apply at lower temperatures.
Sublimation printing is geared for polyester, spandex, nylon, and other synthetic fibers. While it can be done on cotton it's really not recommended. Hands down sublimations will look best on 100% polyester t-shirts and apparel vs 100% cotton. But while a one hundred percent polyester t-shirt will exact a real high-quality transfer, many people don't find it as comfortable as cotton. By using a blended tee with a heavy polyester percentage such as a 60/40 poly cotton blend, you can still get a great transfer but on a more comfortable shirt.
The main cons and disadvantages of polyester I mentioned a bit earlier in this guide to polyester and printing on it. Polyester is not nearly as breathable as cotton and overall feels rougher on the skin than cotton. A polyester t-shirt is more likely to snag and is a very heat sensitive material. The heat sensitivity will make a difference with the method and products used for printing. Taking this into account, many opt for a cotton polyester blended shirt which will cost a bit more than a cotton or polyester one.
In conclusion, polyester t-shirts and apparel can make a great addition to your apparel brand. To be used as athleticwear, casualwear, or elevated basic fashion. And there are a number of great ways to print your logo and artwork on polyester apparel. Want more design tips? Check out our DIY Tie-Dye blog for the how to tie-dye on cotton and polyester! Thanks for joining BulkApparel, your source for all wholesale blank apparel, for our guide to polyester and printing on it.