Printing on Tri-Blend Apparel
Printing on tri-blend apparel is easy with the right info. Bulk Apparel wholesaler has everything you need from pro printing tips to blank styles & more!
If you haven't had the pleasure of wearing tri-blend apparel, this is your sign to change that. While traditional cotton/polyester blends remain popular, tri-blends offer more stretch, more softness, and are more lightweight. Tri-blend t-shirts are made of three different materials which are cotton, polyester, and rayon. As rayon was originally created as a substitute for silk, it is obviously very soft and smooth. And since triblends are for those seeking a luxuriously soft feel, the cotton in the blend is usually combed and ringspun. Which are simple terms for better quality, smoother cotton that has been cleaned of impurities. Ultimately this makes for much better prints with exceptional print clarity. So how do we print on tri-blended shirts though? Bulk Apparel wholesaler is here to help with all the pro tips for printing on tri-blend apparel!
Triblend Printing Pro Tip:
For printing on fabric and shirts as lightweight as a tri-blend, you will want to take some steps to still maintain the soft hand of the tee. Which means you want to minimize the ink film of your print or embellishment. Besides the shirt being extra lightweight, the varying rayon content in the tri-blend can be affected differently under different heat sources and heat times. Printing on tri-blend apparel doesn't have to be super difficult but it is worth noting you should take extra caution during the curing of your print.
As far as tri-blend tees go, there's a few wholesale apparel brands such as American Apparel, Bella + Canvas, and Next Level who make some great ones. But for the sake of this printing on tri-blend apparel how to tutorial, let's talk about the American Apparel TR401W Triblend Track T-Shirt.
This 3.7 oz. wholesale tee consists of 50/37/13 polyester/ringspun cotton/rayon. At under 4 ounces this blank t-shirt is super lightweight and thus needs the thinnest layer of ink possible to ensure it stays soft. Especially when using plastisol inks, it's all too easy to ruin the soft hand of your tri-blend garment.
Furthermore, let's now discuss two methods of printing that are ideal for preserving the soft hand. Number one by using soft-hand plastisols printed with very fine mesh counts and the second using either discharge inks or water based high-opacity inks. If printing on a light color such as athletic blue of the TR401, dye migration won't be a problem. However let's say you were printing on the tri-black or tri-indigo instead, you should also use a bleed-resistant plastisol ink. Because with darker fabrics you want to prevent dye migration as much as possible.
You can definitely use a high-opacity water-based ink here but for this how to we are using a discharge ink. Discharge inks will only adhere to the cotton part of the triblend shirt. It won't affect any of the synthetic fibers of the rayon or polyester. Since this type of ink only prints on the cotton, the end print result will be a really cool vintage favorite worn-in tee look. The screens used for this had a mesh count of 156.
But if this isn't what you are looking for, opt for the soft-hand plastisols to get a nice and bright color print. Darker colored tees especially get that vibrant result just as long as you are sure to use a bleed resistant underbase. As far as screen mesh counts go, for use with plastisol inks on dark fabric, here's some recommendations. Your printing process here should look something like this.
White Underbase: 230 to 156 mesh (maximum)
Flash
Color: 230 mesh
Color: 230 mesh
Color: 230 mesh
Flash
Highlight White: 230 mesh
I always recommend to use high-tension screens for this since they will help make sure there is less ink applied to the fabric. Remember we want a very thin layer of ink to keep your tri-blend blank shirt nice and soft. Also this will help minimize the dye migration from the polyester fibers.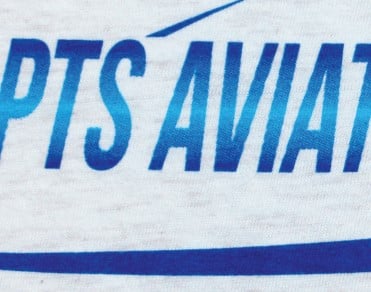 1: The picture above is printing courtesy of Reliable Custom Imprints, Longwood, Fla. They took the triblend tee and printed it with a 230 mesh count screen with a "slightly extended soft-hand plastisols." To extend the plastisol means to mix an additive to achieve a softer feel. Also recommend to use a sharp, hard squeegee.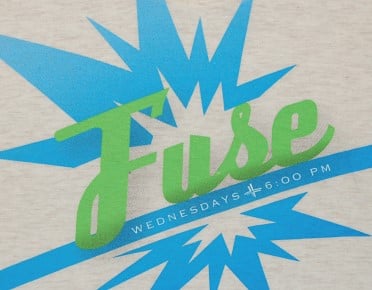 2: Above is the result of a light tee, oatmeal color, printed with discharge inks. A light shade like this produces a nice bright print and still stays soft.
Printing courtesy of Real Thread, Winter Park Fla.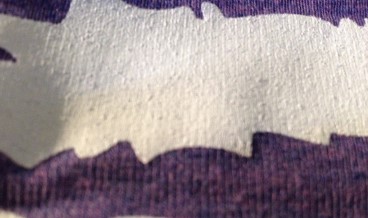 3: Now this print is a triblend garment printed with a white, bleed-resistant ink. Try using a 156 mesh count screen for the underbase and a 200 mesh count screen for the next white. Again this is a plastisol ink.
Printing courtesy of Reliable Custom Imprints, Longwood, Fla.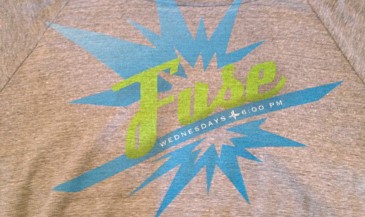 4: This wholesale tri-blend tshirt was printed with discharge inks. And all were printed with a screen count of 156. This is how they were able to attain a halftone in the print. All halftone means is "a pattern of tiny dots that can simulate different shades of color using varying percentages of a single ink." Printing courtesy of Real Thread, Winter Park, Fla.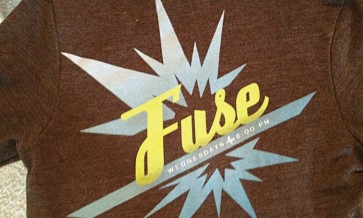 5: Take a look now at results from water-based discharge on yet another triblend garment, but this time fleece. Water based discharge helps get bright prints while also keeping the garment as soft as possible.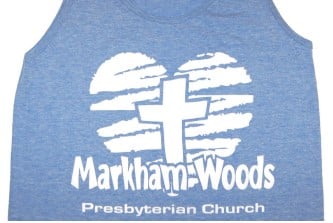 6: This wholesale tank was printed with an underbase then a bleed-resistant white ink. They used 156 mesh count screen. Remember to flash or flash heat which is "used in between printing stages to quickly dry the inks while the shirt is still on the pallet." For the overprint a 200 mesh screen was used. Printing courtesy of Reliable Custom Imprints, Longwood, Fla.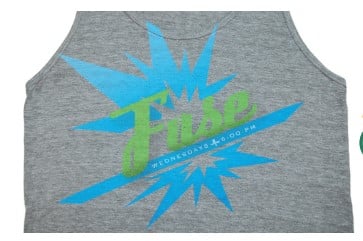 7: Since this triblend tank top was printed with a water-based discharge print, the print has a slightly distressed look. This is due to the ink only adhering to the cotton portion of the shirt. Vintage prints have been and remain a huge trend in the apparel printing and retail apparel industries. Or even if you just want to make a few custom tees at home or for an event.
Printing courtesy of Real Thread, Winter Park, Fla.