How to Embroider Polyester Performance Apparel
Want to know how to embroider polyester performance apparel? This easy wholesale t-shirt design how to is just what you need for that unique logo.
Want to know how to embroider polyester performance apparel? Don't worry, it is just as easy as embroidering cotton basic apparel but with a couple key differences. So grab your favorite Adidas performance wear or Paragon performance tees and let's get started.
Embroidery Needle
You don't want to cut the fabric so make sure to use a ball point needle when embroidering your logo or design. And when using very lightweight performance apparel, try a 70/10 needle.
Thread
Now what kind of thread should you use for this type of embroidery? Both rayon and polyester threads are commonly used but I would recommend the rayon because it's softer. But no matter which one you choose, use a #40 thread with your 70/10 needles.
Backing
For backings I recommend ones which are 2 oz. or lighter. Either tearaway or cut-away backings will do as long as you cut the backing away while you clean up the design. With more delicate and lightweight fabrics such as polyester performance apparel, tugging on your backing may lead to flaws in your embroidery design.
Stitch Density
The problem with excessive stitches in your wholesale performance apparel is that you can cause puckering in the fabric. You will want to lessen your stitch density while concentrating on a good underlay.
Hooping
If you wish to avoid hoop burns, puckering, or any other damage, try not to hoop the garment too tightly. The goal is to hoop the custom shirt tight enough to remain within your loop but without forcing it. Another important tip, do not move or adjust the material after you have placed it in the hoop.
Now that you know how to embroider polyester performance apparel, all you need is some high-quality performance tees like this wholesale Adidas A376 Sport T-Shirt. The A376 performance t-shirt is made with 100% recycled polyester with a hydrophilic finish. Plus UPF 50+ protection.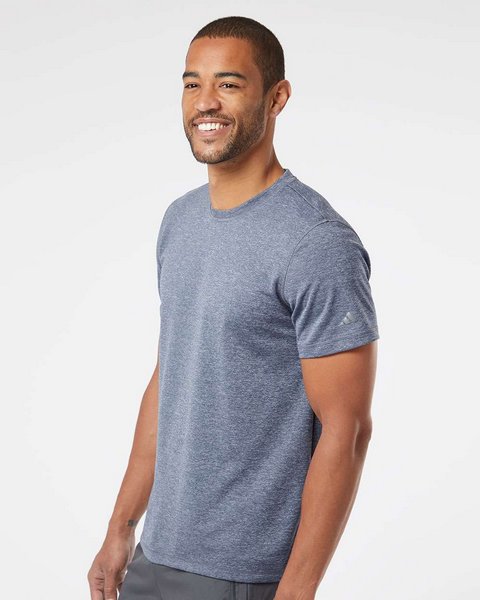 Or if you are in the market for a long sleeve performance tee with some summer style and flare, check out our wholesale Paragon 225 Barbados Performance Pin Dot Long Sleeve T-Shirt. Consisting of 4.1 oz./yd², 100% microfiber performance polyester, this wholesale fave offers Paragon Plus moisture management properties. As well as an anti-microbial & wrinkle resistant finish with UPF 50+ protection and convenient tear away label.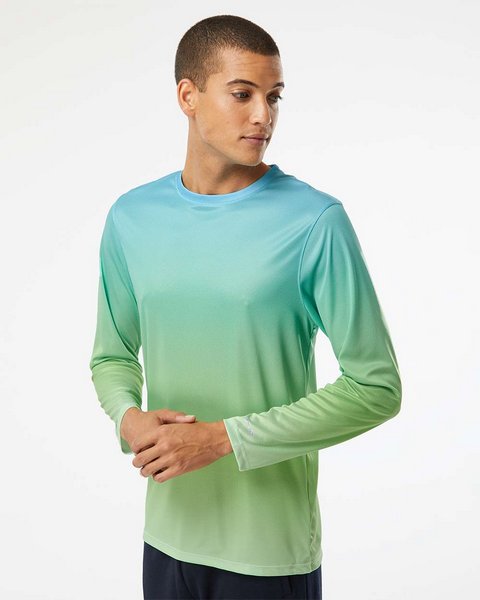 If you liked this wholesale t-shirt design how to blog, check out our other blogs like Printing on Cotton/Spandex Blends.