History of the Three Mardi Gras Colors
Ever wondered why purple, gold, and green represent Mardi Gras? Find out the History of the Three Mardi Gras colors and where to find Mardi Gras apparel!
The history of Mardi Gras is a rich and colorful story that dates back to the 17th and 18th centuries. Typically we celebrate by throwing loud parades and extravagant parties. These festivities include wild costumes and delicacies soon to be prohibited by Lenten season. As the start of Lent is signified by Ash Wednesday, Mardi Gras always falls on the Tuesday (Fat Tuesday) before. While the specific date varies year by year, the main colors never change. A big part of this holiday is the unique representation of purple, green, and gold. Here we give you a brief history of the three Mardi Gras colors along with huge savings on wholesale hoodies and more!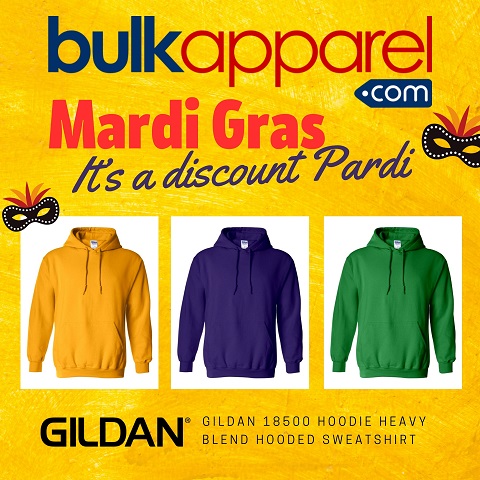 The official colors of Mardi Gras were selected back in 1872 as a way to give honor to Grand Duke Alexis Alexandrovich Romanoff visiting from Russia. They were not given their meanings until 1892 though. It was decided that purple would represent justice, green for faith, and gold for power. Interestingly, both Tulane University and Louisiana State University were heavily influenced by these three colors. The reason being the stores in New Orleans were already stocked up on these colors for Mardi Gras season. Both schools found it would be much easier to choose from the available materials at the time. And ever since, LSU has been represented by purple and gold while Tulane chose green along with blue. For those of you wanting to celebrate Mardi Gras with custom apparel or show some school spirit, we can help! Here are some wholesale apparel favorites of both customers and employees!

The Next Level Women's Ideal Racerback Tank 1533 is perfect for those warmer days when the heat is just a little too much. The 60% cotton and 40% polyester blend material provides an extra bonus of moisture wicking and is available in many colors including Purple Rush and Kelly Green.

Mardi Gras 2021 most definitely was not the same as years prior, as can be expected. Nevertheless, the spirit of Mardi Gras was present in many much smaller but equally significant celebrations this year. So Cheers to Mardi Gras and the history of the three Mardi Gras colors!